Makesensemess is the nerdiest party of the year.
On November 3rd 2023 sensemakers gathered all over the world to reflect on how hard, yet rewarding sensemaking work is.
---
This year members of our community were asked to share a time they realized just how subjective reality is, as inspired by a line from How to Make Sense of Any Mess.
"It's our job to uncover subjective reality." 
- Abby Covert
The stories submitted ranged from deeply nerdy, to deeply personal. The ones we selected are a balance of both with a special eye towards stories that are both deeply nerdy AND deeply personal. 
Some stories you will hear are set at work, while others are set in a less professional setting. Some tackle topics that are incredibly niche to their circumstances, while others are more common experiences many of us share. 
When all these stories are told together we hope they will speak to the hopefulness to be found in embracing subjectivity. 
We are hard at work making sure each brave sensemaker who takes the virtual stage feels confident, and warmly welcomed. If you want to be there to cheer them on, I hope you will purchase a ticket and join us. 
… and if you couldn't make it at party time, don't worry – buying a ticket also gets you video access afterward.  
Below is the growing list of organizations we are proud to have had past speakers of Makesensemess support with their storytelling.
DAVE GRAY
A Sensemaker's Welcome
What awesomeness happens when Abby invites one of her favorite storytellers, visual thinkers and authors of all time to talk about the subjectivity of reality? We are about to find out. To open our event Dave Gray will talk about his lifetime interest in cataloging visual frameworks, and just how subjective that interest can be to pursue.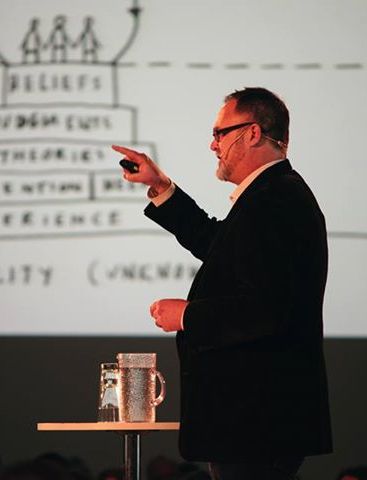 ABBY COVERT
Perfectionism, meet Subjectivity
In her annual keynote address to the Sensemakers Club community Abby Covert will confront the messiest mess of them all: confronting perfectionism. This talk will reflect on the mental model data Abby has secretly been collecting about her students' lines of questioning. 
STORIES OF SUBJECTIVE REALITY FROM
FIVE BRAVE SENSEMAKERS
Each presenter has prepared a 10 minute story about a time when they realized reality is subjective.
JENNY BENEVENTO
Make Sense Meat!!
A taxonomist and sensemaker extraordinaire shares the joy and pain to be found at the depths of life's organizational structures. Reflecting on the taxonomies as far afield as cuts of meat, diagram types, and maybe even hair dolls or juggalos – this talk about bias in meta data is sure to be the cherry on top of our Makesensemess sundae.
ALFI OLOO
Make More Mentors
Last year Alfi Oloo was one of our five brave sensemakers at Makesensemess. He sparked a fire about the direction and community we seek to create with the Sensemakers Club. To close our annual party this year Alfi will join Abby to share our vision for what's next and how you can get involved.
Buy Video Access
---
Makesensemess already took place, but that doesn't mean you have to miss the fun. 
Buying a ticket after the event still provides access to watch a video recording of the event once it is available.
We offer a sliding scale of pricing to make this event more accessible to a more diverse group of people each year.
There is no proof required about eligibility for a certain price nor will you ever be questioned. Please pay whichever your heart feels is right and your wallet (or manager) can afford.
FREQUENTLY ASKED QUESTIONS
.
What is this 'Makesensemess' thing?
Oh No! I am busy that day!
What if after buying a ticket I can't make it?
Where does the ticket money go?
Is Makesensemess a safe event to attend?